Aguila News
There's nothing we enjoy more than sharing the good news about our wonderful students and staff members. And we have a lot of great things to share! Visit our News page to learn about student and faculty awards and accomplishments, past happenings, upcoming events, and so much more.
Aguila Elementary School Accelerate Summer Camp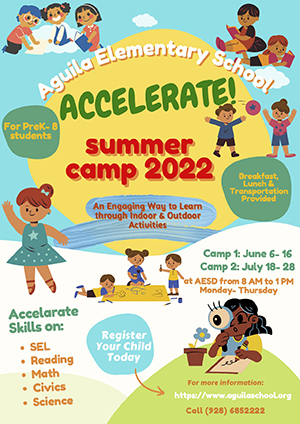 Please join us for the Aguila Elementary School Accelerate Summer Camp 2022. This is a great way to learn and engage your children through indoor and outdoor activities. The camp is for pre-k through eighth grade students. The dates for camp  one is June 6–16, and camp two is July 18–28. Camp will be at AESD Monday through Thursday from 8:00 a.m. until 1:00 p.m. We will provide breakfast, lunch, and transportation. Don't miss out on the fun, register today!
COVID-19 Update
Aguila Elementary School wants to communicate clearly concerning the COVID-19 situation. Our goal is to provide a safe and highly educational environment on our school campus. Please read the parent letter below concerning our plan as well as our 2021–2022 mitigation plan. We will also be hosting vaccination clinics throughout the school year.