AESD Board of Education
An unpaid citizen governing board of five members serves the Aguila Elementary School District No. 63. The function of the governing board is to develop policies for the district, which are then implemented by the superintendent and staff.
Governing Board Meetings
We normally hold our governing board meetings at 6:30 p.m. on the second Wednesday of each month at the Aguila Elementary School. We encourage parents, friends, and community members to attend these meetings in order to stay informed about district activities. Paper postings will be at the front gate of the school on the community board at 50023 N. 514th Ave, Aguila, AZ 85390.
Meet our Governing Board Members
We are pleased with our supportive governing board here at Aguila. These men and women work hard to maintain a high level of academic excellence. Board members volunteer their time to ensure that we meet and exceed our academic goals.

Maricela Alvarez-Montes
President
First Term (Board Term 2021 – 2024)
Biography
About Maricela Alvarez-Montes
Ms. Alvarez grew up in Aguila, she attended public schools and is a first-generation college graduate, receiving her bachelor of science degree in pre-medicine with a minor in fine arts from Mount St. Mary's University. Ms. Alvarez is proud to be raising her eight-year-old son in the Aguila Elementary School District. He has attended since he was in kindergarten and is now a 2nd grader. She is very connected to the school and has enjoyed volunteering in her son's classes over the last few years. Ms. Alvarez works from home full-time as a quality assurance manager.
Close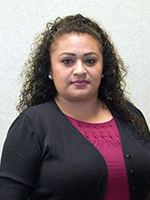 Amparo Acosta
Vice President/Clerk
Second Term (Board Term 2021 - 2024)
Biography